Improving North Liberty's Stormwater
Posted on: November 14, 2023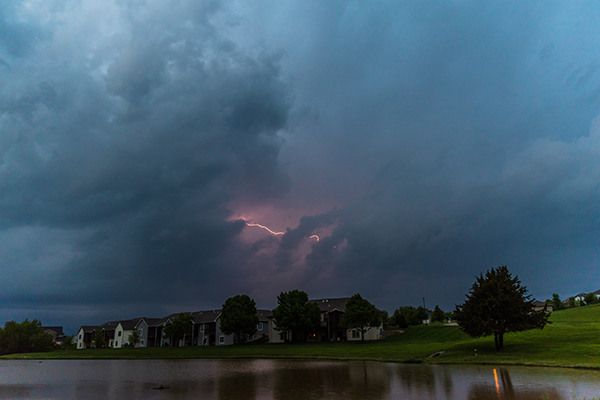 Stormwater — primarily meaning rain — and how we deal with it is something North Liberty staff thinks a lot about, even on sunny days.
North Liberty's relatively high water table coupled with its relative flatness means stormwater can cause some real problems, including property damage like flooded basements. And well-managed stormwater doesn't just keep water out of basements and roads; it also keeps pollution out of our creeks, streams, ponds and other waterways, protecting water quality in town and downstream, and prevents topsoil erosion and other environmental problems.
Protecting Water Quality
The City of North Liberty manages and maintains a growing network of stormwater management infrastructure. Under state law, North Liberty is required to maintain an MS4 (short for "municipal separate storm sewer system") permit that requires us to responsibly manage stormwater, provide education and maintain stormwater infrastructure wholly separate from our wastewater treatment.
And we're not just talking about concrete pipes and storm drains. Our system includes numerous ponds throughout town, native plants with deep roots, biocells to catch and filter out pollutants along Ranshaw Way, Centennial Park's largest-in-the-state bioswale prairie, rain gardens in Penn Meadows Park (the first of our green stormwater infrastructure initiatives) and even residents' yards, which all work to slow down and reduce the intensity of the initial rush of stormwater so our soil can filter out impurities before they show up in Muddy and Clear creeks and the Iowa River.
We're also required to make sure property owners are doing their part. Our staff makes sure construction sites have a plan and follow it to prevent erosion, and requires builders to return top soil to the site at the end of their work. This doesn't just keep mud off our streets, but means good soil is in place to deal with stormwater and not polluting our water bodies.
Modernizing the Utility Fees
Property owners in North Liberty, like in other "municipal separate storm sewer system" cities, pay a stormwater utility fee to solely support the construction and maintenance of the public stormwater system as well as education and mitigation efforts. North Liberty's city council is considering an update to our fee structure that would move from a flat fee to all properties to a system that requires property owners to pay based on their impact to the system and makes sure our community has the funding we need to continue building and maintain our storm sewer system. The funds from our stormwater utility are kept outside of the city's general fund and can only be used for expenses related to stormwater. The update requires three separate affirmative votes from the city council.
For 23 years, North Liberty has charged every property owner $2 per month no matter how large they were or how much of an impact they had on our storm sewer system. Under the proposed structure, residential property owners pay a flat fee. Commercial and industrial property owners would be charged a fee proportionate to the amount of impervious surface on their property, since hard surfaces like parking lots and roofs have the greatest impact on the municipal system as they push stormwater directly into the system instead of slowing it down.
The proposed fee structure, which will directly pay for stormwater operating costs and expected capital expenses (all proposed capital projects are included by year, with a summary of Storm Sewer fund shown on Page 10, are included in our Capital Improvement Plan, which is updated annually) and is based on those costs, is similar or lower than other MS4 cities in Iowa. It will be included on utility bills and used to pay for flood control, drainage improvements and other capital projects expected to cost $1,000,000 in the next five years on top of regular operating expenses.
The proposed residential rate structure proposes a per-unit fee based on the "equivalent residential unit," or ERU, and multi-unit and manufactured homes would pay 75 percent of a unit. It would be fully phased in over two years, beginning in 2024.
Residential Stormwater Utility Rates
| | Current Rate | Year 1 | Year 2 | Year 3 |
| --- | --- | --- | --- | --- |
| Single-Unit, Two-Unit & Townhomes | $2.00 | $3.00 | $4.00 | $4.00 |
| Multi-Unit & Manufactured Homes | $2.00 | $2.00 | $3.00 | $3.00 |
| Mix Used, Residential | $2.00 | $2.25 | $2.50 | $2.50 |
The proposed commercial and industrial rate structure proposes a base fee for the first "equivalent residential unit," or ERU, and an additional cost for each additional ERU so the fee is based on the use and impact of the property's total impervious surface. It would be phased in over three years, beginning in 2024.
Commerical & Industrial Stormwater Utility Rates
| | Current Rate | Year 1 | Year 2 | Year 3 |
| --- | --- | --- | --- | --- |
| First ERU | $2.00 | $3.00 | $4.00 | $4.00 |
| Each Additional ERU | $0.00 | $0.33 | $0.66 | $1.00 |
City staff have used ariel photography, building and site plans and assessor records to calculate the total area of commercial and industrial properties impervious surfaces, and owners of a property with more than 100,000 square feet of impervious surface that would see an increase of $10 or more per month under the proposal, will receive a letter with information specific to their property before the fee is implemented. Any property owner with questions about how the impervious surface for their property was calculated can contact Ryan Rusnak at [email protected] or (319) 626-5700.