Linn County Rural Electric Cooperative Donates $25,000 to Centennial Park Transformation
Posted on: October 30, 2023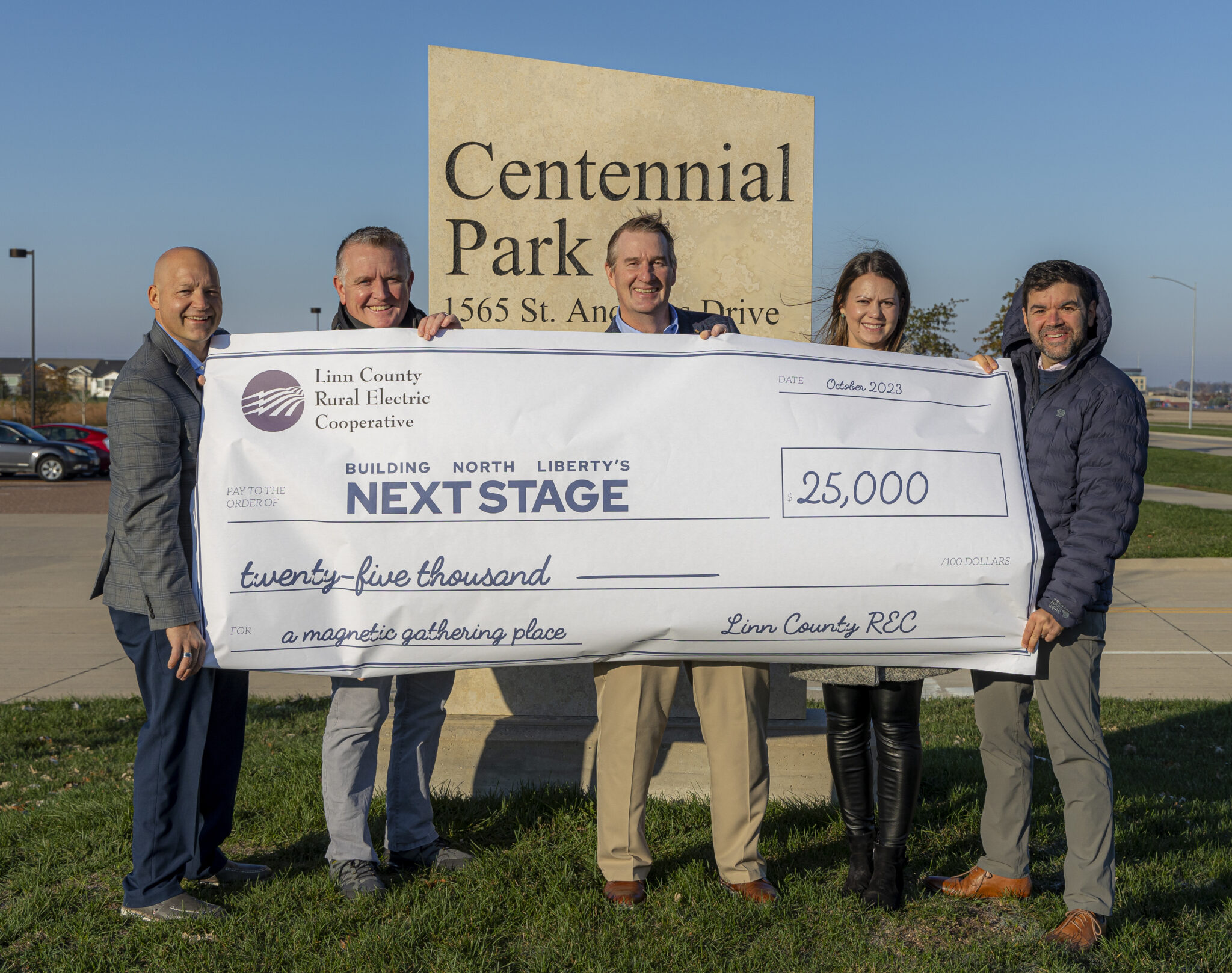 The City of North Liberty has received a $25,000 contribution from Linn County Rural Electric Cooperative in support of Building North Liberty's Next Stage campaign.
The capital campaign, which launched in April 2023, will help bring an amphitheater, indoor event space, pavilion, splash pad, shelters, honor garden and restrooms to fruition in North Liberty's Centennial Park — all while preserving the great lawn and making the park more accessible to people of all ability levels.
"We are excited to be a part of this project as it will benefit our growing membership in the North Liberty community for years to come," said Terry Sullivan, General Manager at Linn County REC.
Linn County Rural Electric Cooperative (REC) is a not-for-profit, member owned electric distribution cooperative serving more than 33,200 members in portions of six counties in eastern Iowa. The cooperative is committed to bringing new businesses to the communities they serve and supporting development in the areas where their members live, work and play.
"I was on City Council when the city purchased the 40-acre plot back in 2010," said Mayor Chris Hoffman. "It's exciting to see our decade-long vision for an entertainment park on the west side of town finally becoming a reality. This gift from Linn County REC fuels our momentum."
In appreciation of the contribution, Linn County Rural Electric Cooperative will be recognized on one of the private spaces that will serve as a greenroom for stage performers and dressing room for wedding parties inside the Centennial Center.
The park will be completed in four final phases. An event center, amphitheater, restrooms, and a plaza will break ground next summer with completion in 2025. These amenities will increase access to arts and entertainment in North Liberty, relieve pressure from the very-in-demand Community Center for event and meeting space and draw folks from around the region to our community. A splash pad and inclusive playground units are planned for phase two in 2026, and an open-air pavilion for shade and an honor garden to recognize Iowa's service men and women will be added in phases three and four as quickly as funding allows.
The total project cost is estimated at $16.4 million, the first phase being the largest at $8.8 million. The city has committed $6.5 million towards the improvements. As of this release, local businesses and community members have contributed over $325,000.
A designated fund has been established at the Community Foundation of Johnson County to accept donations. The community foundation can accept a wide array of gifts, including cash, stocks and required annual 401k distributions. Contributions of any size are meaningful and eligible for tax deduction. View donor levels and opportunities, including naming a picnic table or limestone seat, and give at northlibertyiowa.org/give.