Communitywide Treasure Hunt All November Long
Posted on: November 2, 2023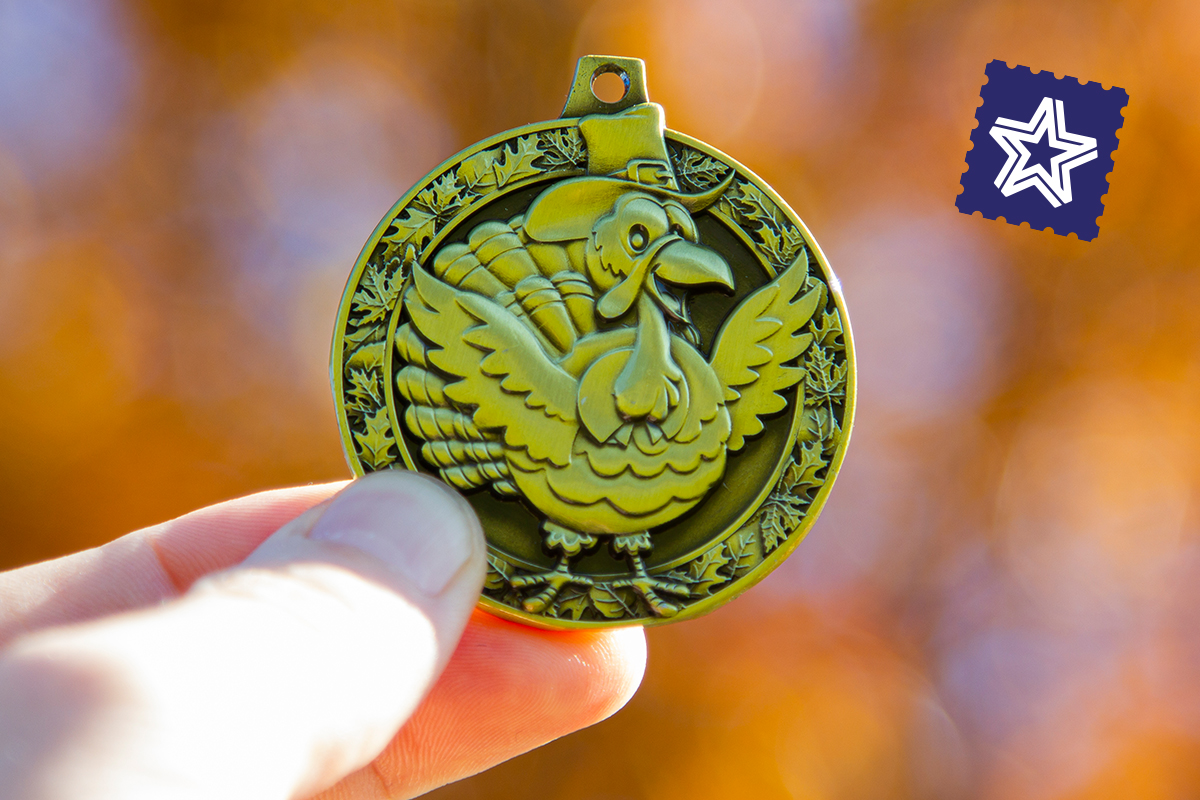 Go on a communitywide hunt for a plethora of prizes, with new prizes and clues each Tuesday in November (plus a bonus drop on Black Friday), as part of the second Golden Turkey Hunt.
The five Ws
Who: Anyone and everyone.
What: Weekly clues lead to hidden medallions unlocking treasure troves.
Where: On public property somewhere in North Liberty.
When: Each Tuesday in November, a new prize and clue will be released, with a bonus Black Friday prize.
Why: To explore North Liberty this fall.
What to expect
Starting Nov. 7, each Tuesday (plus a bonus drop on Black Friday) at 9 a.m. we'll release a clue on northlibertyiowa.org, Facebook and to those subscribed to our special event emails to find a hidden medallion located somewhere on public property in North Liberty. The first person to find the medallion and return it to the Recreation Department's front desk will win the week's prize. If the prize isn't claimed in the first three days, we'll release a second clue at noon on Day 3 (usually a Friday).
Nov. 7: North Liberty Attractions package — claimed!
Nov. 14: Holiday Meals package
A holiday family meal for six people
A second holiday family meal pack to give to a family of your choice
$100 gift cards for North Liberty Recreation Department programming
Nov. 21: Family Fun package
Summer family pool pass
One drink and snack item voucher per week per family member on the pass
$100 gift card for North Liberty Recreation Department programming
Nov. 24: Hans and Franz package
Annual family Black & Gold membership for Recreation Center use
$100 gift card for North Liberty Recreation Department programming
Nov. 28: Eat North Liberty package
What to bring
Sharp mind for unraveling clues.
Good shoes for walking to possible hiding spots.
Eagle eyes for spying hidden medallions.
How to get there
Visit northlibertyiowa.org to get the latest clue. Do some thinking. Go out hunting, but stay on public property.
You also might be wondering
Dogs are welcome as long as they are on a leash and stay under the caretaker's control and you clean up after them.
The use of tobacco, nicotine, vape and other electronic smoking devices are prohibited in North Liberty parks, trails and public recreation areas.
Who to thank
This event is part of the City Slate. The yearlong schedule of events is made possible by Centro, Inc, The Family Dental Center, The Eastern Iowa Airport – CID, Hills Bank, MidWestOne Bank, Shive-Hattery, South Slope Cooperative, University of Iowa Hospitals & Clinics, Urban Acres Real Estate and Veridian Credit Union.
Stay in the loop
Share your photos with us on Facebook and Instagram.
Stay connected with the City by subscribing to the North Liberty Bulletin or signing up for news alerts.
Accessibility
We're committed to providing access, equal opportunity and reasonable accommodation at our events for individuals with disabilities.
For accommodations, please reach out to [email protected] or call (319) 626-5755.
More City Slate Fun
This event is part of the City Slate, a compilation of North Liberty's largest and free city-produced events, with more than 40 events planned in 2022. Explore the schedule at northlibertyiowa.org/cityslate.