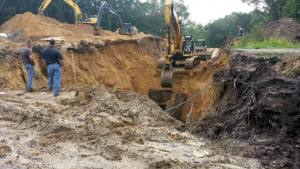 Crews continue to install sewer pipe from the city's waste water treatment plant on Abigail Avenue to the site of the new high school on Dubuque Street. Last week, the Langman placed about 120 feet of 30-inch sanitary sewer, this work actually occurring through City of Coralville property east of Naples Avenue. This progress was slow because this is the one of the areas in which the pipe will lay the deepest.
The photo shows the crew using three backhoes to dig and move dirt. Restoration occurs after the pipe is in place.
This week, Langman plans to will continue installation of the sanitary sewer on the Coralville property, but may move to work on the water main at the school site. This work may take up to two weeks. Once the water main is in place, the Iowa City Community School District's construction crews will begin storm sewer and grading work, followed by replacement of the Dubuque Street Trail at grade with the road. Weather permitting, the trail is expected to reopen in October.
Langman's sewer and water project is scheduled to be substantially complete by April 1, 2016, with a final completion deadline of June 1, 2016.