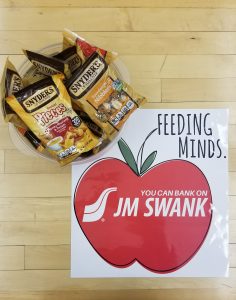 The North Liberty Community Library has partnered with JM Swank, a national, full-line food ingredient distributor located in North Liberty, to offer snacks to hungry kids and teens after school.
Kids function best when properly nourished, and with food insecurity in Johnson County hovering around 14 percent, and an estimated 4,150 kids might not be getting enough to eat. JM Swank and the library are working to alleviate a need in the community.
"Feeding the body goes hand in hand with feeding the mind, and the library is perfectly poised to do just that," said Erin Silva, the library's youth and teen services librarian. "This program is a small step in the library's overall desire to reach kids who might not otherwise come into the library."
Every weekday afternoon, snacks are provided for kids. In return, kids participate in a library program or are read to while they eat. Teens who properly use the library's teen lounge receive a snack as a reward for their compliance with the rules.
Silva and Caroline Allen, the library's youth and teen services assistant, identified the need. When approached, JM Swanks charitable contributions team met and toured with library, and jumped at the opportunity to partner and problem solve.
The program, in effect since late September, has led to increased library use and decreased disruptive behavior. The library would like to extend its thanks to JM Swank for its partnership.