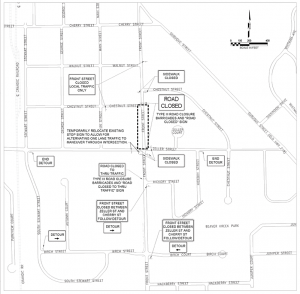 Weather permitting, from approximately 7 a.m. to 6 p.m. on Friday, April 27, 2018, Front Street will be closed to through traffic between Zeller and Hickory streets, and Zeller Street will be reduced to one lane. This closure is necessary so crews can preform water main work associated with the reconstruction of Front Street. A detour route will be signed during the closure.
This closure will end on Friday, April 27, 2018, but is expected again, weather permitting, on the weekend of May 5 and 6, 2018, to complete the work.
Drivers are asked to use caution around the work site, allow extra travel time, and find alternative routes when possible. Details and updates on this and other North Liberty construction projects are available at northlibertyiowa.org/projects.