Bitter Winter and Wet Spring Delays Outdoor Pool Opening
Posted on: May 7, 2019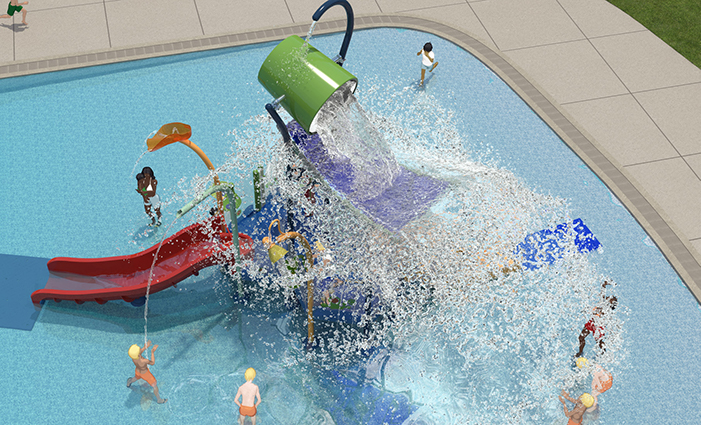 We're all looking forward to summer, but the wet spring and bitter winter will continue to have an impact on our summer outdoor pool opening.
The spring weather delayed the installation of new equipment, which in turn will delay additional cleanup, re-painting and curing, and other repairs that must occur before the pool can be filled. Once filled, which takes about two days, staff will work to balance chemical levels in the pool. This will be the first pool filling since North Liberty's new water plant came online last summer, so figuring out the right mix for all 266,076 gallons in the pool could take a little longer than normal.
But the biggest impact is a reverberation from this winter weather of January and February, which led to days of canceled class for local school districts. Since the pool relies heavily on students for lifeguard staffing, and because many local districts, including Clear Creek Amana, Solon and College Community, have make-up classes reaching into June, the aquatic center will have trouble convening training and safely covering daytime pool hours.
To safely cover the pool, the 2019 hours will be adjusted six days, with the pool opening on Friday, May 31, 2019. Through Friday, June 7, the outdoor pool will be open from 5 to 9 p.m on weekdays and 12 to 6 p.m. on weekends. Regular hours will begin on Saturday, June 8, with the last day of outdoor operation  on Sept. 1, 2019. Prorated summer pass refunds are available; patrons should speak to the recreation director.
Days
Times
May 25 to May 30
Closed
May 31 to June 7
Mon. - Fri.
5 - 9 p.m.
Sat. - Sun.
12 - 6 p.m.
Regular Hours
(June 8 - Aug. 22)
Mon. - Fri.

12 - 9 p.m.
Sat. - Sun.
12 - 6 p.m.
Independence Day
July 4
12 - 6 p.m.
School Hours
(Aug. 23 - Sept. 1)
Mon. - Thurs.
Closed
Friday
5 - 9 p.m.
Sat. - Sun.
12 - 6 p.m.
Labor Day
Sept. 2
Closed for season