As North Liberty Homeowner Powers On, Solarize Johnson County Hits First Milestone
Posted on: August 21, 2020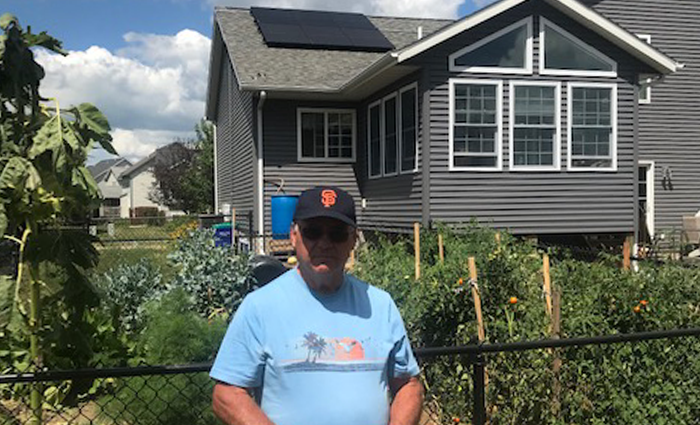 This week, Roger, a North Liberty homeowner, turned on his installed solar power array, becoming the first Solarize Johnson County participant this round to begin producing their own power.
In all, seven households will soon benefit from clean solar-generated energy on their homes through Solarize Johnson County, an educational and group buying program that makes solar more affordable. Theses participates have helped the program meet its first goal.
The program began with affordable pricing below market rate, and, by reaching the first threshold of 50 collective kilowatts (kW), participants save another 3 cents per watt. Additional
cost savings will be achieved as the group buy collectively reaches 150 kW, 300 kW and 500 kW milestones, potentially bringing the cost down to $1.99 per watt. Any saving thresholds that are reached after property owners sign on for solar are retroactively rebated to those owners.
The Midwest Renewable Energy Association administers the group buy, which is open to all property owners — homeowners, businesses and farms — in Johnson County and West Branch.
Johnson County, along with West Branch and eight other cities are partners in the effort. The program installer is Eagle Point Solar.
Becky Soglin, Johnson County's sustainability coordinator, said that many people are drawn to the group buy because they can accomplish several things at once.
"People like Solarize Johnson County because they can switch to a renewable energy that is clean for everyone in the community, while saving money in the longrun. Each household or property owner who participates helps bring down the cost for everyone," Soglin said. "We know it's a difficult time, and we really appreciate people considering the program and thank those who have been able to commit to getting solar."
There is still time for people to attend an online Solar Power Hour and learn about the opportunity or view a recorded presentation. People can sign up for any Solar Power Hours or to receive an estimate or program updates at solarizejohnsoncounty.org. North Liberty will co-host the Solar Power Hour on Wednesday, Aug. 26, at 12:30 p.m. (there are other opportunities, too)
In addition to North Liberty, there are eight city partners include Coralville, Hills, Iowa City, Lone Tree, Shueyville, Solon, University Heights and West Branch. However, regardless of whether a city is an official partner, any property owner in Johnson County or all of West Branch is eligible to participate in the program.