North Liberty Offers a Summer Slate of Fun You Can Count On
Posted on: May 3, 2021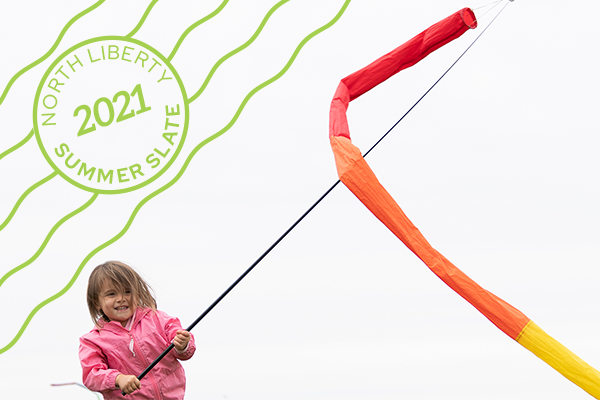 After a year of shifting plans, stand ins and alternatives, our community needs fun it can look forward to and, most importantly, count on.
Today, we're announcing North Liberty's Summer Slate, and it's exactly that: free events that can easily adjust to comply with public health recommendations and provide a mix of online, small group and outdoor in-person programs for all ages.
Highlights for May include North Liberty Trivia Night (May 12), Mega Kites (May 16), the first Movie on the Lawn (May 28) and the Fairy Trail. The summer will also offer drive-in movies, concerts in the park, inflatables, acrobatic performance, fireworks, a playground crawl and much more. In all, some three dozen events are scheduled through September. Visit the full schedule – and save the dates – at northlibertyiowa.org/summerslate.
Event details, including if a free reservation is needed for capacity limits, location and time, will be released at the beginning of each month.
These free events are made possible by Veridian Credit Union, South Slope, Shive-Hattery, Hills Bank, GreenState Credit Union, Eastern Iowa Airport – CID and the City of North Liberty.
While we are looking forward to a fun summer, public health is our highest priority. Working with Johnson County Public health, COVID mitigations will be in place for all in-person events that we'll adapt as the public health landscape changes. All of our in-person Summer Slate events will take place outdoors, all staff, volunteers and vendors will be masked,hand-washing and hand sanitizer will be available. Attendees should wear a mask if they're over 2 years old, should maintain physical distance from other households and should stay home if anyone in their household is experiencing COVID-19 symptoms or has had contact with someone who has tested positive in the past two weeks.
Additionally, we're committed to providing access, equal opportunity and reasonable accommodation for these events for individuals with disabilities. If you need an accommodation to participate, please contact [email protected] or call (319) 626-5726 at least two days prior to the event.
The full calendar of Summer Slate events is below and at northlibertyiowa.org/summerslate. Save the dates. Details to follow.
All Summer: Fairy Trail, Recreation Fun Packs, ONE Packs, Adventure Pass, Find & Make Public Art, 55+ Connections (Fridays)
May – July: StoryWalks
June – Aug: Geocaching
June – July: Your Library at Home Kits
May Mondays: Make It Mondays
May 12: North Liberty Trivia
May 16: Mega Kites
May 28:  Movie on the Lawn
June 5:  Embody | Embrace
June 5: Free Fishing Weekend
June 12: Concert in the Park
June 12: Free Weekend at the Dog Park
June 14: Summer Reading Program starts
June 17: Little Miss Ann
June 18: Drive-In Movie
June 19: Backyard Campout
June 25: Movie on the Lawn
July 16: Drive-In Movie
July 17: Concert in the Park
July 23: Movie on the Lawn
July 24: Inflatables
August: Scavenger Hunt
August 14: The Eastern Iowa Circus
August 16: Lighthouse in the Library
August 21: Concert in the Park & Fireworks
August 27: Moms & Mocktails
August 28: Playground Crawl
September 10 – 19: Welcoming America Week
September 28: Meet Your Neighbors