Summer Means Bikes, and North Liberty is a Great Place to Ride
Posted on: May 27, 2021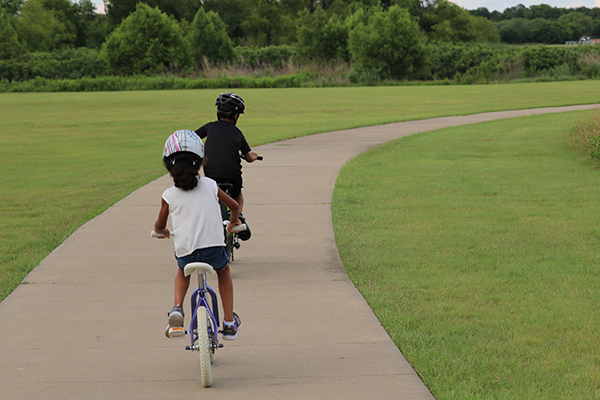 North Liberty is a great place to bike, and summer is a great time to do it.
Learn to Ride
Pick up a free copy of Bob Oppliger and Connie Szabo Schmucker's guide to teaching children to ride a bike, titled Teaching Your Child to Ride a Bicycle at the Community Center, 520 W. Cherry St., or download a digital copy. The guide offers tips for caregivers to help children as young as age 3 become confident riders of two-wheeled bicycles and includes tips to configuring a bike for practice, where to practice, and how to help a child progress through balancing, pedaling, and stopping.
Get a Helmet
Pick up a new helmet to make sure everyone in your family has a well-fitting one to protect their brain. For just $12, you can get a new helmet at Recreation Department's front desk at the Community Center, which offers a variety of sizes.
Register Your Bike
The Police Department registers bikes locally to help return found bicycles. Fill out a simple online form to add your bike to the database.
Join a Community Ride
On the fourth Thursday of each month, in partnership with Bicyclists of Iowa City, our Recreation Department hosts a family-friendly community ride — or "slow roll" — around town from 6 to 7:30 p.m. May 27's ride starts (and ends) at Centennial Park, and June 24's starts at Liberty High School. Locations for July 22, Aug. 26 and Sept. 23 will be announced later this summer. Consent forms and helmets required to participate, and riders under 12 need to be accompanied by an adult.
Get Around Town
North Liberty has more than 25 miles of paved trails and side paths maintained year round by our Parks Department as well as other bike accommodations, perfect for a morning spin, a family trek to the pool or park or a ride to a local patio. Grab a map or just see where your bike takes you.
Ride Your Own Adventure
The entire metro has an ever-expanding network of trails and bike-friendly routes, whether you're thinking through the University of Iowa campus, up (and down!) the tough hills of Sugar Bottom or across the river to Solon. Bike Iowa City can point you in the right direction.