Trolls World Tour and Crazy Rich Asians Hit the Drive-In Screen June 18
Posted on: June 1, 2021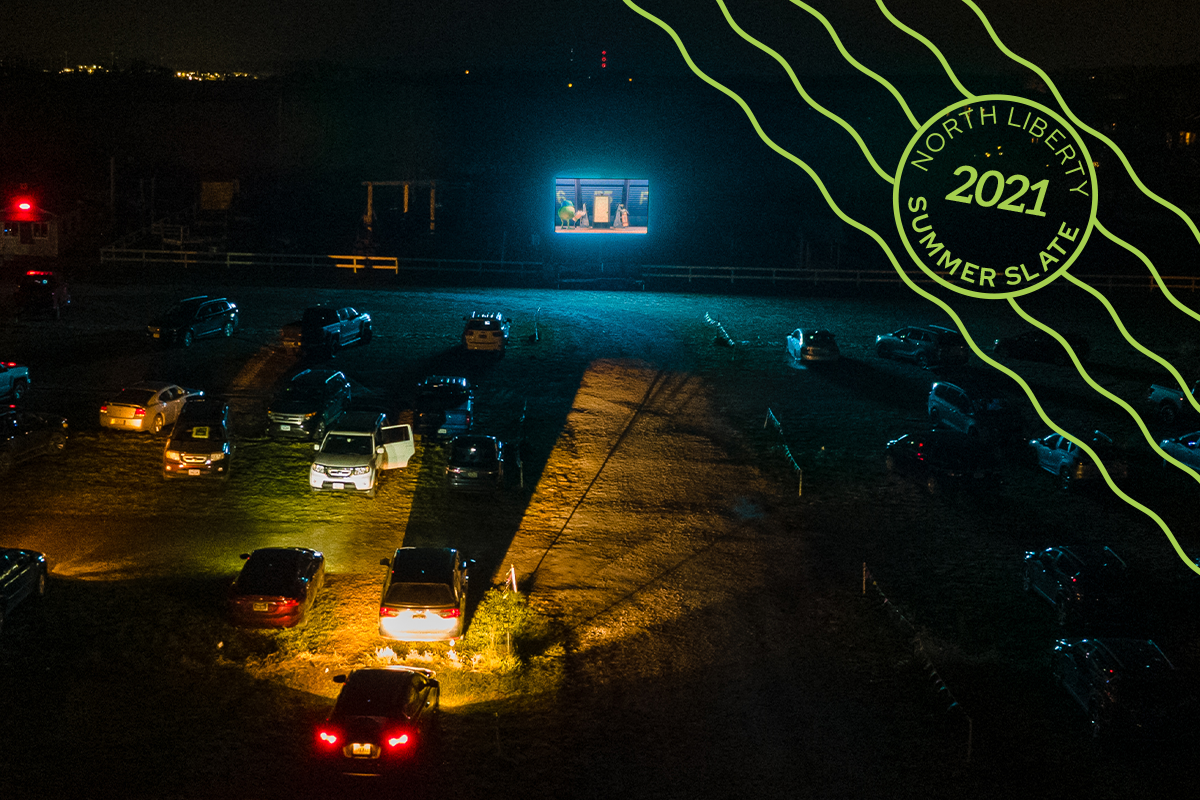 The City of North Liberty and the Colony Pumpkin Patch are partnering on drive-in movies for the North Liberty area community. The first showings are Friday, June 18. Here's all you need to know.
The five Ws
Who: You! Free and no tickets are needed.
What: Drive-in screenings of Trolls World Tour (PG) and Crazy Rich Asians (PG-13).
Where: Colony Pumpkin Patch grass lot, 2780 Front St NE, North Liberty.
When: Friday, June 18. Schedule outlined below.
Why: Who doesn't love a good movie?
Schedule
We're using an LED screen so there is no need to wait for the sun to go down.
5:30 p.m.     Lot and concessions open
6:00 p.m.     Trolls World Tour
8:00 p.m.     Lot opens for second showing. Stay for both shows or arrive at 8 p.m.
8:30 p.m.     Crazy Rich Asians
Parking and sound
Up to 200 vehicles can fit in the lot per showing. Reservations are not available and cars will be parked in the order they arrive.
Large vehicles that could block others' views will be directed to park in the back row.
Audio will be broadcast over an FM radio transmitter. A small speaker will also be onsite, but the best way to hear will be through your radio.
Those without a vehicle are still welcome to attend and sit between the screen and front row of cars.
What to bring
A car (OK, that's obvious) and whatever you need to comfortably enjoy the films from inside or out of the vehicle.
Your wallet. The Colony Pumpkin Patch will have a variety of concessions available for purchase. Your own snacks and non-alcoholic beverages are welcome as well.
Concesssions
The Colony Pumpkin Patch will have concessions available for purchase including lemonade slushees, mini donuts, drinks, snacks and hotdogs. Your own snacks and non-alcoholic beverages are welcome as well.
Leave the alcohol at home. The Colony Pumpkin Patch and City of North Liberty are not licensed or permitted to have alcohol on site for this event. Please respect this rule so we can continue to host events like this for the community. Staff will ask anyone found in possession of alcohol to dispose of it or leave the event.
Portable toilets and a handwashing station will be available on site.
More on the films
Trolls World Tour
Rated PG, animated
91 min runtime
Plot: Branch and Poppy come across six tribes of trolls, each practicing different styles of music. It is then up to the duo to unite and protect the other kingdoms of trolls when their musical styles are threatened by the sinister heavy metal couple King Thrash and Queen Barb.
Crazy Rich Asians
Rated PG-13, comedy
120 min runtime
Plot: Rachel Chu, an American-born Chinese NYU professor, travels with her boyfriend, Nick, to his hometown of Singapore for his best friend's wedding. Before long, his secret is out: Nick's family is wealthy, and he's considered the most eligible bachelor in Asia. Every single woman is incredibly jealous of Rachel and wants to bring her down.
Stay in the loop
Join the Trolls World Tour and Crazy Rich Asians drive-in Facebook events.
Share your photos with us by tagging the City of North Liberty on Facebook or Instagram.
Stay connected with the City by subscribing to the North Liberty Bulletin or signing up for news alerts.
COVID Event Mitigations
While we are looking forward to a fun summer, everyone is easing out of the pandemic at their own pace. Events on the Summer Slate have adopted the City of North Liberty's "masked until you're vaxxed" policy for staff and attendees.
In line with public health guidance, those fully vaccinated against COVID-19, meaning two weeks have passed since they have received the second of two doses of Pfizer or Moderna vaccine or one dose of the Johnson & Johnson vaccine, are no longer expected to wear a mask when attending Summer Slate events. Organizers ask those who have yet to be fully vaccinated to still wear a mask. Safe and effective COVID-19 vaccines are free and currently available to anyone 12 years or older at local pharmacies and hospitals.
As always, attendees should stay home if anyone in the household is experiencing symptoms of COVID-19.
Accessibility
We're committed to providing access, equal opportunity and reasonable accommodation for this event for individuals with disabilities. If you need an accommodation to participate, please contact [email protected] or call (319) 626-5726 at least two days prior to the event.
Who to thank
This free event is made possible by Colony Pumpkin Patch, Veridian Credit Union, South Slope, Shive-Hattery, Hills Bank, GreenState Credit Union, Eastern Iowa Airport – CID and the City of North Liberty.
More Fun
This is the first of two Drive-In Movie nights planned for the summer. Movie titles and details for the July 16 event will be announced on July 1. These events are just two of over 35 events and programs on North Liberty's Summer Slate. A partnership between city departments and supported by Veridian Credit Union, South Slope, Shive-Hattery, Hills Bank, GreenState Credit Union, and Eastern Iowa Airport – CID, the Summer Slate is designed to provide free events that can easily adjust to the changing public health landscape for our community. Explore the schedule at northlibertyiowa.org/SummerSlate.
Still have questions?
Contact city communications at [email protected] or  at (319) 626-5726.