Free Concert in Penn Meadows Park Aug. 21
Posted on: July 30, 2021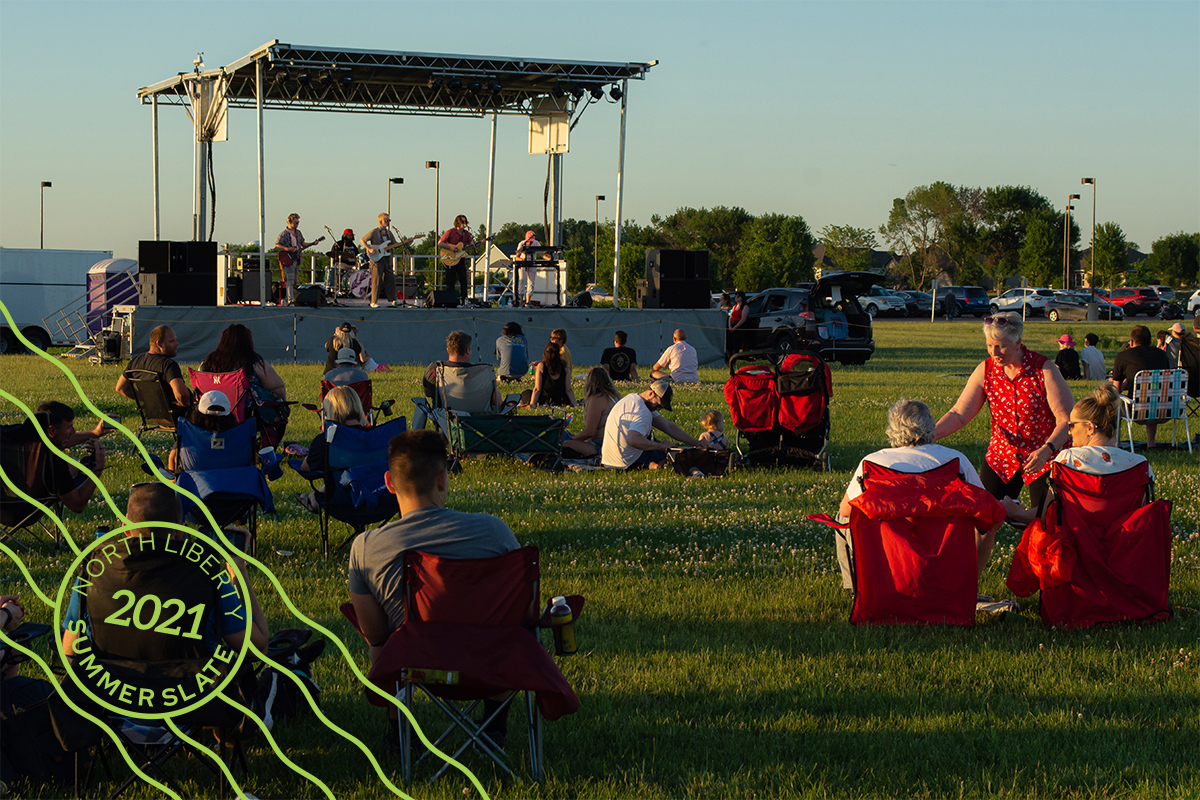 On Aug. 21 we're hosting a summer sendoff party in Penn Meadows Park with a free concert and fireworks display. Here's all you need to know:
The five Ws
Who: You!
What: A free summer sendoff for all ages. Enjoy an evening of good company with performances by Big Begonias and Crystal City, followed by a 15-min fireworks display.
Where: Penn Meadows Park, 170 N Dubuque St, North Liberty
When: Saturday, Aug. 21, from 5 p.m. to 9:15 p.m.
Why: Who doesn't like live music and fireworks?
Schedule
5:00 p.m. – Concert grounds open
5:30 to 6:30 p.m.  – Big Begonias
7:00 to 8:30 p.m. – Crystal City
8:30 to 9:00 p.m. – (window of time for dogs attending the concert to leave before the fireworks)
9:00 p.m. – Fireworks
More on the bands
Big Begonias' warm acoustic guitar, chamber cello, and finely drawn rhythm create a folksy pop vibe. The band is a collaboration of Gabrielle Kouri, singer songwriter, George Spielbauer, guitar, Katie Senn, cello, and Dan Miller, drums.
Crystal City is fronted by Dave Helmer and Sam Drella. Helmer is a Midwestern singer/songwriter from central Iowa with blue-collar roots. Heavily influenced by Paul Westerberg, Tom Petty, John Prine, and Townes Van Zandt, Helmer's songs are approachable and relatable, touching on themes of love and loss, being good to each other, and celebrating life. Crystal City have spent their time touring across the country, and have been met with positive reviews of their blend of rock and acoustic songs. The band has shared the stage with national acts such as Charlie Parr (and Devil's Flying Machine), Lucy Dacus, The Cactus Blossoms, Miles Nielsen, Adia Victoria, The Whigs, The Good Life, HoneyHoney, Matthew Logan Vasquez and The Ike Reilly Assassination.
What to bring
Lawn chairs and blankets to relax on while enjoying the performances. To allow everyone to have a view of the stage, we ask attendees to not bring pop-up tents or large sun shades.
A picnic to enjoy with family and friends. Food and drink will not be available for purchase.
BYOB. While alcohol is usually prohibited in public parks, this event has been approved for BYOB of wine or beer (cans only, no glass). Alcohol must only be consumed within designated area of the park. Alcohol will not be for sale.
Your dog, if you'd like. They are welcome as long as they are on a leash and you clean up after them, but please note that fireworks will be launched from the park beginning at 9 p.m.
How to get there and where to park
Penn Meadows Park is located at 170 N Dubuque St, accessible from both Dubuque St and Penn St.
Please park on the park's paved lots or along nearby residential streets.
Skip the car and walk, bike or roller blade to the park!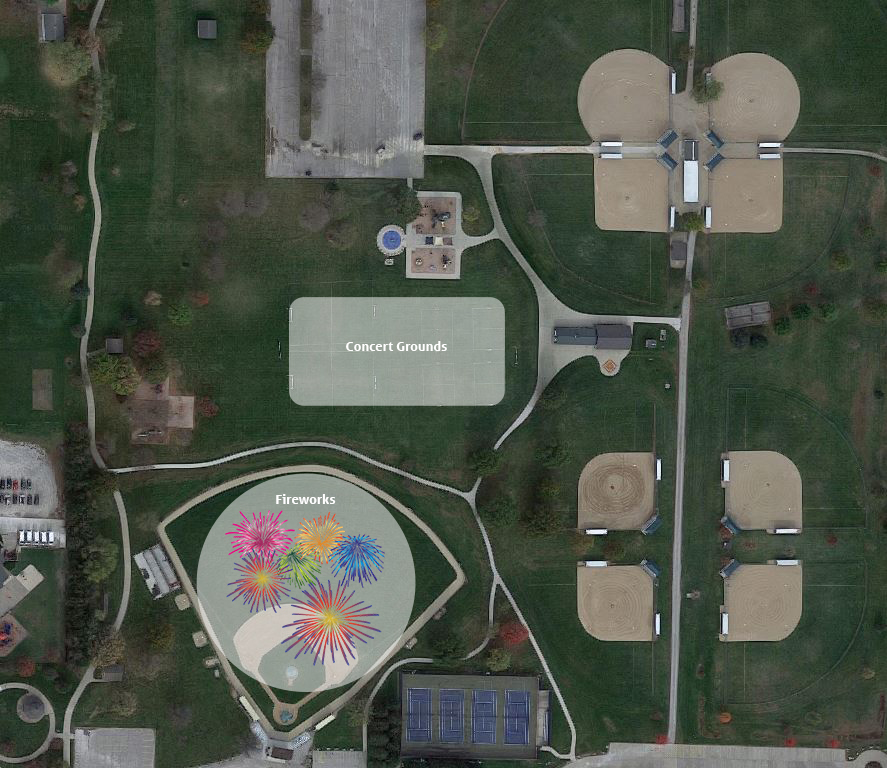 Stay in the loop
This event is weather dependent. Any cancellations or delays will be posted in the Facebook event.
Share your photos with us by tagging the City of North Liberty on Facebook or Instagram.
Stay connected with the City by subscribing to the North Liberty Bulletin or signing up for news alerts.
COVID event mitigations
While we are looking forward to a fun summer, everyone is easing out of the pandemic at their own pace. Events on the Summer Slate have adopted the City of North Liberty's "masked until you're vaxxed" policy for staff and attendees.
In line with public health guidance, those fully vaccinated against COVID-19 are no longer expected to wear a mask when attending Summer Slate events. Organizers ask those who have yet to be fully vaccinated to still wear a mask. COVID-19 vaccines are free and currently available to anyone 12 years or older at local pharmacies and hospitals. As always, attendees should stay home if anyone in the household is experiencing symptoms of COVID-19.
Accessibility
We're committed to providing access, equal opportunity and reasonable accommodation for this event for individuals with disabilities. If you need an accommodation to participate, please contact [email protected] or call (319) 626-5726 at least two days prior to the event.
Who to thank
This free event is made possible by Veridian Credit Union, South Slope, Shive-Hattery, Hills Bank, GreenState Credit Union, Eastern Iowa Airport – CID and the City of North Liberty. Special thanks also goes to The Englert Theatre for curating the musical lineup.
More Fun
This event is just one of over 35 events and programs on North Liberty's Summer Slate. A partnership between city departments and supported by Veridian Credit Union, South Slope, Shive-Hattery, Hills Bank, GreenState Credit Union, and Eastern Iowa Airport – CID, the Summer Slate is designed to provide free events that can easily adjust to the changing public health landscape for our community. Explore the schedule at northlibertyiowa.org/SummerSlate.
Still have questions?
Contact [email protected] or call (319) 626-5726.