Celebrate Bike Month and a Bike Friendly Community Center
Posted on: April 29, 2022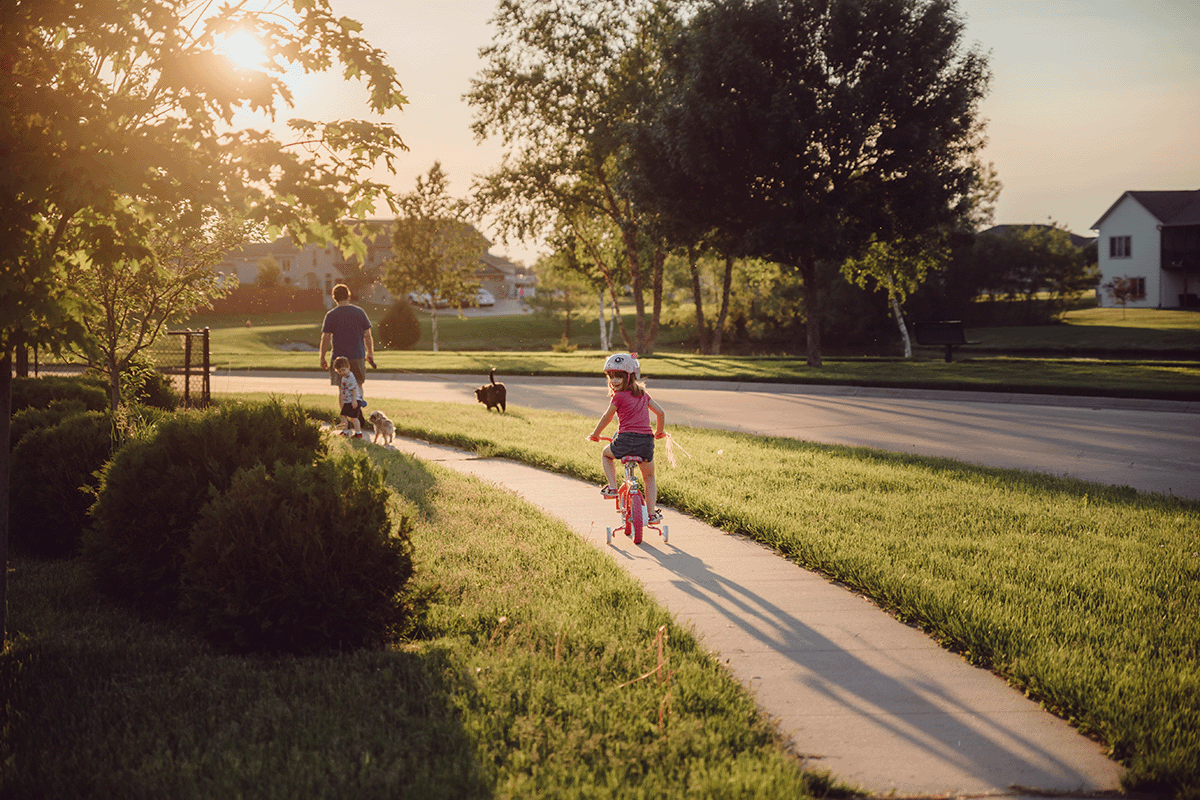 North Liberty's Community Center has been designated bike-friendly by Bike Iowa City, a local organization supporting local biking and bike tourism, just in time for Bike Month in May, a great time to focus on bicycle amenities and events, and celebrating Bike Month is as easy as, well, riding a bike.
The Community Center's bike-friendly designation acknowledges the enthusiasm, amenities and offerings the Community Center has for cyclists. The Community Center offers information on local trails, convenient bike storage, supplies to make quick repairs at the Recreation and Library front desks that include patch kits and inner tubes, and other amenities that make it easy for cyclists to use. The North Liberty Library checks out bike locks for patrons who might have forgotten one at home. The Recreation Department offers bike helmets for just $12 each. Our Police Department offers bike registration, which can help us get your bike back to you if it's lost or stolen.
Bikes are an economical, environmentally sound, and effective means of transportation, recreation, and fitness, notes the mayoral proclamation issued for Bike Month, and bikes are considered legitimate vehicles in all 50 states and are entitled to legal and responsible use of all public roads in Iowa (with the exception of interstates). Our community benefits from increased use of bikes through improved air quality, reduced traffic congestion and noise, decreased use of and dependence upon finite energy resources and the fostering of healthy lifestyles.
Bike month also includes Bike to Work Week the week of May 16. Consider commuting to work or school, or picking your bike for a trip to your favorite restaurant or community event for the week. Find all the events plan on Bike Iowa City's event calendar.
If you're a leisurely rider, or perhaps you're helping a kid get their wheels under them, the city has 22 miles of multiuse trail and sidepaths, and they connect to points throughout the county. They're usable year-round (even through winter), but May's a good time to give them some more use.
If you're looking for more challenging options, Sugar Bottom Bikes hosts rides throughout the year, including a ride to Reds (with 20+ miles of gravel in between) starting at 6 p.m. each Wednesday and a longer gravel ride starting at 8 a.m. each Saturday. The Bicyclist of Iowa City also host rides out of and around North Liberty. You can find a slew of events on the Bike Iowa City calendar.