North Liberty Invites Community Members to Take us to the Next Stage
Posted on: March 29, 2023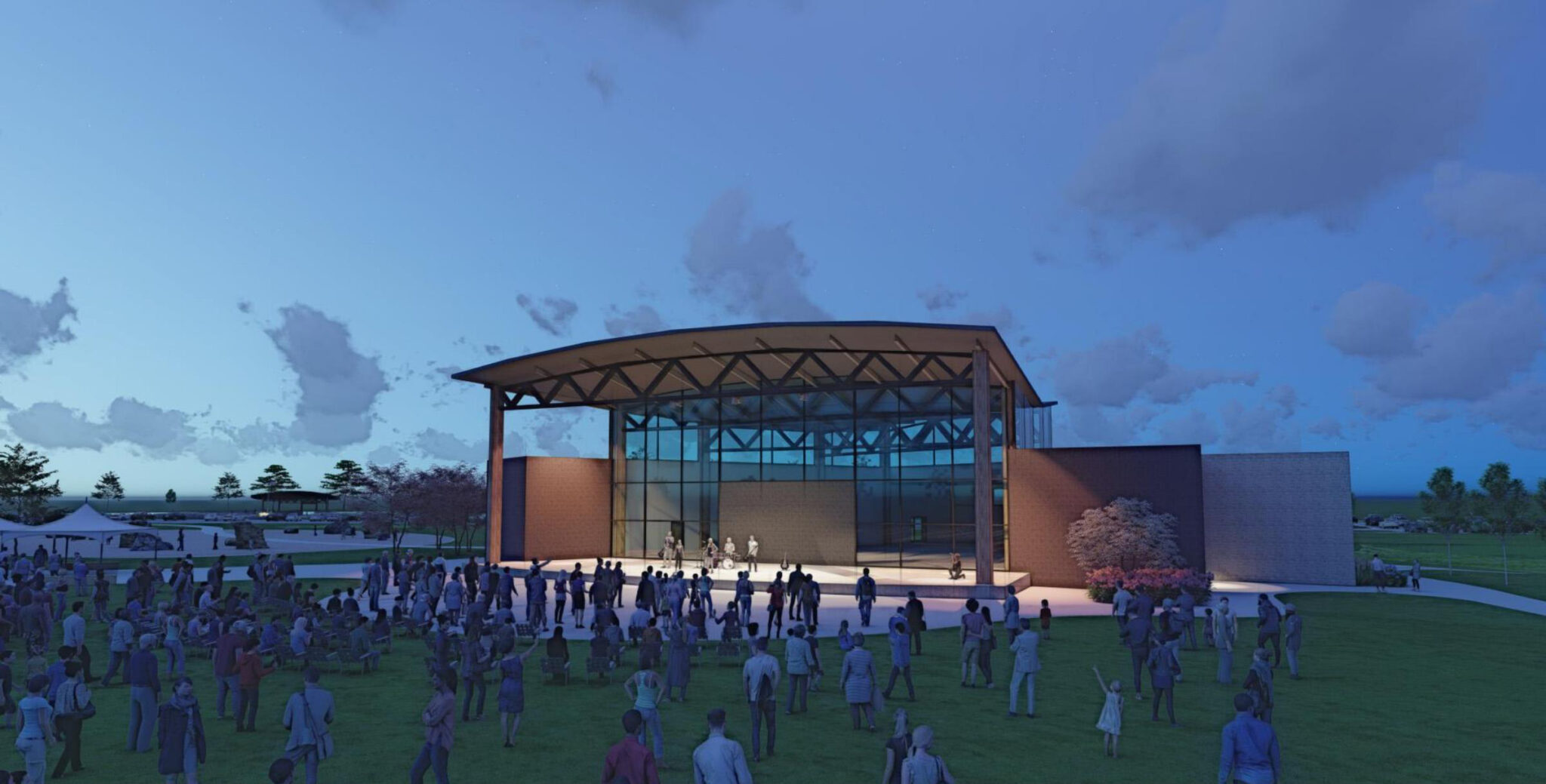 North Liberty has announced its plans to build a magnetic gathering place in the heart of Eastern Iowa, and a campaign, with a goal of $1 million in community support, to make it a reality called Building North Liberty's Next Stage.
The $16 million project will fulfill the longstanding vision for Centennial Park, acquired in 2010, as a venue for community events, premier concerts, weddings, business gatherings, outdoor movies, craft fairs and festivals.
Work will be funded through a variety of public and private resources, including community giving. In partnership with the Community Foundation of Johnson County, a fund has been established to support these improvements. Gifts and pledges, eligible for tax deduction, can be made at northlibertyiowa.org/nextstage.
"North Liberty Next Stage builds a regional asset that also answers the call we've heard from people who love this town: space to connect, play and explore," said Mayor Chris Hoffman. "North Liberty has long been attractive because of its location in the heart of Eastern Iowa and connection to neighboring towns for employment, entertainment and shopping. And now, our location between the population centers of Iowa City and Cedar Rapids makes North Liberty and Centennial Park perfectly situated for regional events."
The completed project includes:
The Centennial Center anchored at the heart of the park.

A 300-person-capacity indoor event space for public events and fairs, as well as private rentals for weddings, business functions and reunions.
An outdoor stage for free and ticketed events, entertaining audiences of 500 to 10,000 people with school concerts, dance recitals, regional and international touring artists, diverse performances and more.

An open-air pavilion offering 5,000 square feet of necessary shade and flexible program space for farmers' markets, ceremonies and a seasonal outdoor ice rink.
A premier splash pad, answering the frequent call for another option for young families to cool off in the summer heat.
Wheelchair-accessible playground units, taking the park's existing inclusive offerings to the next level.
Expansive plaza spaces and pathways to connect park amenities and offer physical accessibility.
An honor garden, recognizing Iowa's service men and women, overlooking the park's pond.
Restrooms, shelters and additional parking to accommodate expanded events.
Engineering is anticipated to begin this year, with the Centennial Center opening to the public in 2025.
The city will hold three public information sessions about the project, each at the North Liberty Library, 520. W. Cherry St. in North Liberty:
Monday, April 10, at 12 p.m.
Tuesday, April 11, at 8:30 a.m.
Tuesday, April 11, at 5:30 p.m.
We'll also hold an online information session, which will be recorded, on Tuesday, April 11, at 12 p.m. You can watch the recorded presentation here.
Over the past decade, the city has invested millions to intentionally develop the greenspace and surrounding area, including installing water, sanitary and storm sewer, paving trails, erecting play structures, reconstructing roads and more.
Just as critically, North Liberty hasn't waited for the perfect venue. Organizers have experimented and refined free park programs over the past decade such as acrobat performances, kite festivals, concerts and signature festivals like Blues & BBQ.
While the completed Centennial Park will serve as a regional attraction, it will also serve as a community asset. That, too, serves a critical economic development role: improved quality of life attracts and retains a diverse workforce to the region.
Shared outdoor spaces are the lifeblood of a city, which we heard from residents loud and clear through our public 2019 Branding and Visioning and 2022 Comprehensive Plan projects. Most ideas North Libertarians shared for the City's future centered around building more community gathering spaces for social interaction.
More information about the project, as well as giving information, can be found at northlibertyiowa.org/nextstage.