Thank Gourd It's Fall: Community Activity Highlights for October 2023
Posted on: September 21, 2023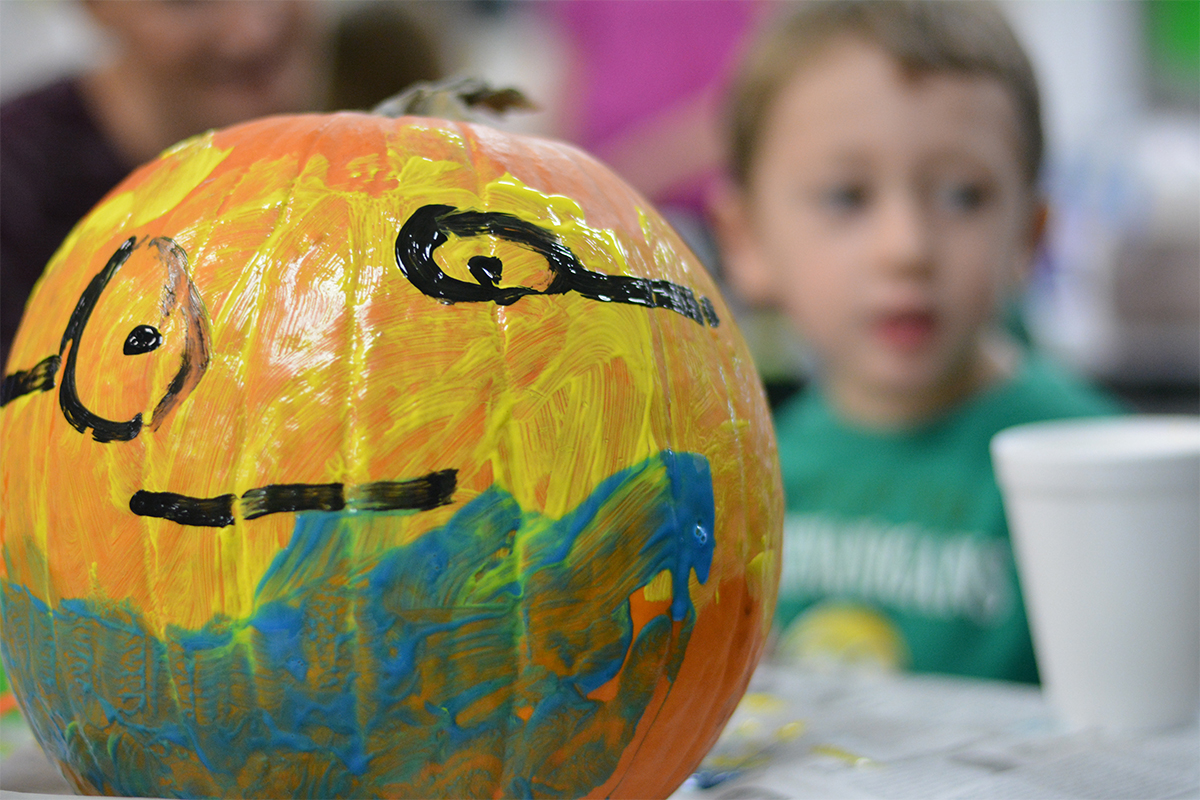 You can get a copy of the full guide to classes and programs in our Community Center, which includes our Recreation Center, Library, Aquatic Center, Gerdin Conference Center and other spaces, published three times each year, in person at the Community Center, 520 W. Cherry St., or online. These highlights of the coming month are published on the third Thursday of each month. You can sign up to have this emailed to you at northlibertyiowa.org/subscribe.
News & Updates
The indoor pool is closed for repainting and is expected to reopen on Monday, Oct. 9.
Consider giving through our capital campaign to support the next stage of Centennial Park. Gifts of any size, though the Community Foundation of Johnson County, are appreciated and opportunities to leave a lasting mark are available at northlibertyiowa.org/give.
North Liberty trick-or-treats from 5 to 8 p.m. on Halloween, Oct. 31 (unlike those weirdos in central Iowa).
In Case You Missed It
The Community Center hosts a Special Supplemental Nutrition Program for Women, Infants and Children (WIC) clinic from 9:30 a.m. to 4 p.m. on the second Tuesday of each month. Learn more at johnsoncountyiowa.gov/clinical-services/wic-program.
City Slate Events
There's always something free and fun to do in North Liberty. The City Slate offers events all year long, and are made free with the support of Centro, Inc, The Family Dental Center, The Eastern Iowa Airport – CID, Hills Bank, MidWestOne Bank, Shive-Hattery, South Slope Cooperative, University of Iowa Hospitals & Clinics, Urban Acres Real Estate and Veridian Credit Union. More at northlibertyiowa.org/cityslate.
Moonlight Walk
Oct. 13, 10:30 a.m. and 6:30 p.m., Liberty Centre Pond, 820 W. Cherry St., Free
Trick or treat with ghosts and ghouls and participate in a scavenger hunt for a chance to win special prizes. Costumes welcome, but not required. Halloween spirits will gather around Liberty Centre for kids to hunt up some fun during the Halloween Moonlight Walk.
Other Upcoming Events
Costume Closet
Oct. 1, 1 – 4 p.m., Library, Free
Get the kids spooky season ready by shopping our free Costume Closet on October 1. Each adult can select one costume per child (two costumes maximum), sizes ranging from birth to 12, and any relevant accessories.
Pumpkin Painting/Carving
Oct. 18, 6 – 8:30 p.m., Recreation Center, $12
Come enjoy painting or carving a pumpkin just in time for Halloween. Kids 12 and under will pick out their own pumpkin to carve or paint or both! We will provide all materials needed to get the job done, including, of course, treats. Drop in during the time frame.
Register by Oct. 11
Babies, Toddlers & Preschoolers
Music Together
Oct. 12 and Oct. 21, 10:30 a.m., Library, Free
Amy Maurer with Orchestra Iowa's Music Together, a program designed to help parents nurture their child's musical growth, provides developmentally-appropriate music and movement instruction to children from birth to 5 years old, as well as their parents or caregivers. The Music Together approach encourages early child development, understanding and response through direct musical experiences.
Pied Piper with Orchestra Iowa
Oct. 19, 9 a.m., Library, Free
Join Orchestra Iowa as they introduce preschool-aged children to the instruments of the orchestra. Pied Piper concerts offer children the opportunity to enjoy an up-close and personal chamber concert. October is Strings.
Halloween Photos with Paige Prior Photography
Oct. 27, 9:30 – 10:30 a.m., Library, Free
Children pre-K and younger are invited to come in costume for a complementary keepsake photo with Paige Prior Photography followed by a spooktacular Storytime in the library. Paige will be setup with a festive photo op in the Learning Center and Storytime will take place in the Library Meeting Rooms at 10:30 a.m.
Doodlebugs with the Cedar Rapids Museum Of Art
Oct. 30, 10:30 a.m., Library, Free
It's spooky season, so get ready for a not-so-scary tale and an art project that's equal parts fright and delight.
School-Aged Youth
Super Tuesdays: FrankenCraft
Oct. 3, 4 p.m., Library, Free
Kids in kindergarten through third grade can enjoy a myriad of different crafts or combine all the crafts to make their own FrankenCraft!
Tweendom: Creepy Rockets
Oct. 10, 4 p.m., Library, Free
Kids in grades fourth through sixth will decorate film canisters to look like a ghost or a creepy crawly of their choice and then conduct experiments to see how far their ghost rockets can shoot into the sky.
Teen Tuesday: Breakout
Oct. 17, 4 p.m., Library, Free
Breakout! Spooky edition. Seventh through 12th graders can enjoy a seasonal breakout room created by the youth and teen library staff. Put your thinking caps on and see if you can escape with time left.
Fall Tween Lock-In
Oct. 20, 5:30 – 8 p.m., Library, Free
Bring your friends for pizza, snacks, games, crafts, and fun for grades fourth through sixth. Scream, shout, run around with us after hours at the library.
Register
Adults & Senior
Club 24
Mondays, 9 a.m., Recreation Center, $6
Named in honor of Iowa's sole Heisman winner, Club 24 is an opportunity to watch the most recent Iowa game with coffee, cinnamon rolls and conversation. Signup by the proceeding Friday by phone at (319) 626-5716 or online.
Register
Gentle Yoga
Tuesdays, 10 – 11 a.m., Recreation Center, $75
This class offers slow, flowing movements with gentle stretching, and use of chairs, walls or some blocks for support is welcome. The instructor, a physical therapist, pairs her knowledge of the joints, muscles and nervous system with the goal of leaving you feeling better than you arrived. Please bring your own yoga mat. Those under 16 may attend with an adult. See Rec Desk for monthly schedule and rates, and additional yoga offerings.
Register
Stretching Class
Wednesdays, 5 – 5:40 p.m., Recreation Center, $60
This class offers participants the opportunity to relax, breathe, calm down and stretch all of their body parts. Please bring your own mat, pillow, blanket or other props that might feel helpful for stretching. Those under 16 may attend with an adult.
Register
Adults' Paint Along
Oct. 6, 6:30 p.m., Library, Free
Follow along with a video from a renowned landscape artist as he guides us through one of his tutorials. Paint, canvases, and snacks provided. Wear clothes you don't mind getting covered in paint. For adults. Beer and wine permitted.
Register
Basics of Yoga
Oct. 7, 21 & 28, 10 – 11 a.m., Recreation Center, $45
Learn the foundational poses of yoga in a welcoming environment with guided instruction on basic yoga poses, breathing techniques and safe practice. Instructor Natalie, a physical therapist, uses her background with anatomy and chronic pain training to help guide participants through beginning yoga poses. Please bring your own yoga mat and a couple of yoga blocks to class. Those under 16 may attend with an adult. See Rec Desk for monthly schedule and rates, and additional yoga offerings.
Register
Squeegee Art
Oct. 23, 6:30 p.m., Library, Free
By popular demand, squeegee art returns to the library. Make a beautiful piece of art using only paint and a squeegee. All supplies provided.
Register
Families
Holiday Swim
Oct. 16, 1 – 4 p.m., Aquatics Center, $2 kids, $4 adults
An extended open swim during the day off from school.
Floating Pumpkin Patch
Oct. 22, 9:45 (ages 1 – 5) and 11 a.m. (ages 6 – 10), Aquatics Center, Free
Jump in and pick your favorite pumpkin to take home. The patch includes raffles, a pumpkin decorating station and goody bags. (Parents are required to be in the water with children ages 1 to 5 and with children ages 6 to 10 who are non-swimmers). Registration is required and opens on Sunday, Oct. 15 at 8:00am.
Register for ages 1 to 5 starting 8 a.m. on Oct. 15 Register for ages 6 to 10 starting 8 a.m. on Oct. 15