Is Trick-or-Treating Happening?
Posted on: September 25, 2020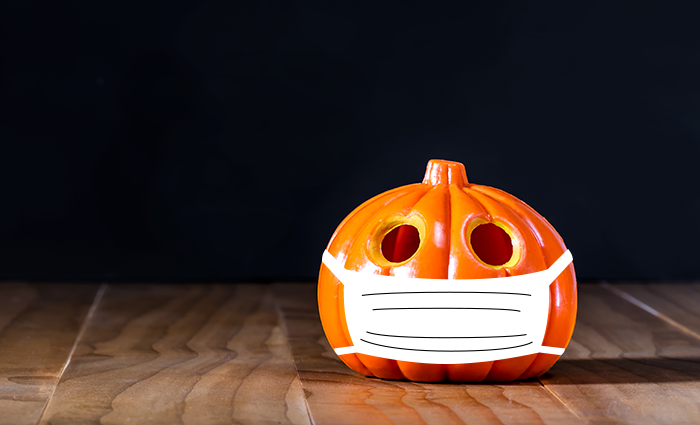 Halloween is coming up, but it will look different than years past because, you know, the COVID-19 pandemic.
Johnson County Public Health and other experts caution that traditional trick-or-treating is riskier than alternatives; although interactions door-to-door are typically quick, they usually involve close and frequent contact, the conditions that spread SARS-CoV-2, the coronavirus that causes COVID-19. Often, many kids and families gather at doors or on sidewalks, and the more households they visit, the greater chance that germs are spread and linger.
But is Trick-or-Treating happening?
Celebrating virtually offers the lowest risk of transmission. Public health experts warn that traditional, door-to-door trick-or-treating is a higher risk activity in the midst of a pandemic with a virus that spreads from person to person. Families should consider alternatives such as:
Setting up stellar outdoor, home or yard decorations the community can drive past to enjoy
Hosting costume or pumpkin carving parties online
Hosting a neighborhood vehicle parade
Reversing the trick-or-treating or trunk-or-treating roles and have treat distributors toss treats to costumed kids
Having a scavenger hunt-style trick-or-treat with your household members in or around your home
OK. OK. But, seriously, is Trick-or-Treating happening?
In a word, yes. But it will look different. Public health experts, including Johnson County Public Health, recommend — and the City of North Liberty endorses — some precautions:
Limiting your trick-or-treating group to your household or the bubble you've already been distancing with
Skipping areas or streets that are busy
Not stopping at homes not following safety guidelines, such as mask wearing and distancing
Setting up contactless candy-delivery methods, such as tossing candy or setting out treats in a driveway
Bringing hand sanitizer and using it frequently
Got it. But when is Trick-or-Treating?
If you're not a transplant from central Iowa or a few other pockets out east, or haven't heard of Beggars Night, this may seem like a silly question. North Liberty trick-or-treats on Halloween, Oct. 31. Trick-or-treating ends at 7 p.m. this year, but the city isn't designating a start time for families who plan to trick or treat because we're encouraging those who choose to do so, to make arrangements with friends or neighbors who your household has been physically distancing with during the pandemic. Homes who are prepared for trick-or-treating should use the universal signal and turn on their outdoor lights.
Trick-or-treaters should respect homes with their lights off, as it may be home to someone who is more vulnerable to COVID-19.
That makes sense. What else do I need to know?
No matter how you choose to celebrate Halloween this year, keep the following advice from Johnson County Public Health in mind:
If you are sick, or you have been in contact with someone who is sick with COVID-19 or has symptoms of COVID-19, stay home
Wear a mask over your mouth and nose, make sure it is under or over any Halloween costume masks, and remember that a Halloween mask does not offer appropriate protection
Avoid smaller spaces that do not allow for distancing of six feet
Stay at least six feet away from those who do not live in your home
Wash or sanitize your hands often
This all seems excessive. Everyone's wearing masks!
Halloween masks aren't the same as the face coverings recommended to stop the spread of the virus. That said, everyone could go as a mask-wearing healthcare professional or ninja. (And keep doing it until the pandemic abates.)
Get the full recommendations from Johnson County Public Health at johnsoncountyiowa.gov/Halloween2020.
We've got a lot going on this month, and we hope you'll participate.