Planning for Summer Pools in a Pandemic
Posted on: April 5, 2021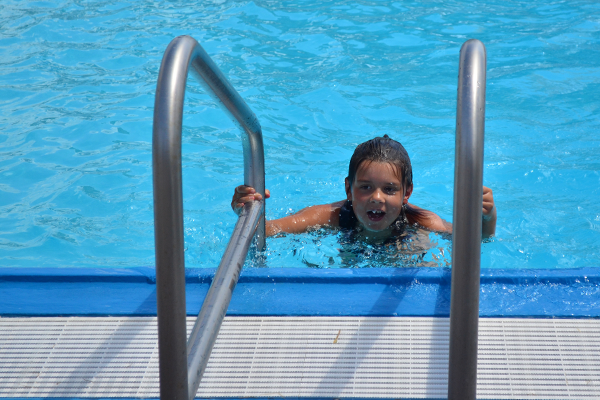 Update: We've updated our plans for summer 2021, including increasing attendance numbers and offering drop-in use starting June 12. Details are here.
---
North Liberty plans to open the outdoor pool and offer swimming lesson this summer.
While details aren't yet final, we're working hard to plan for a summer 2021 outdoor pool season, and we wanted to offer some insights into our planning, as well as our expected limitations, including the wider public health situation changes, staffing levels and learning about changes in demand and use patterns.
Outdoor Pool
We expect to open the outdoor pool at noon on Sat., June 12, 2021, for open swim. Since this is the first time we've run an outdoor pool in a pandemic, we will, at least to start, limit capacity to 125, and so prioritize patrons with memberships. We hope to add drop-in swimming times as the summer progresses and we learn what additional capacity we have. Memberships can be purchased in advance and are eligible for reduced prices based on household income.
Access will be at the outside Concessions window and gate. Operational changes may occur at any time and will be communicated through Recdesk, city website and social media.
Indoor Pool
Our indoor pool remains open for member lap swim by reservation, scheduled aqua fitness classes and evening swim lessons. Access is from inside, where we ask members to scan their membership cards at the front desk or check in for specific programs, before proceeding down the ramp to indoor pool. Visit Recdesk to see continued addition of classes and programs.
Summer Swim Lessons
The outdoor pool will host morning swim lessons. The first session of summer lessons is planned for the week of June 14. Registration for North Liberty residents will open on Monday, May 17 and for all others beginning Wednesday, May 19. A second session of swim lessons planned for June 28. Registration for North Liberty residents will open on Monday, June 7, and for others on Wednesday, June 9.
Visit northliberty.recdesk.com to see all the recreation programs and classes offered and registration dates as we begin to add more programming.