Winter Wonderland: Community Activity Highlights for December 2023
Posted on: November 16, 2023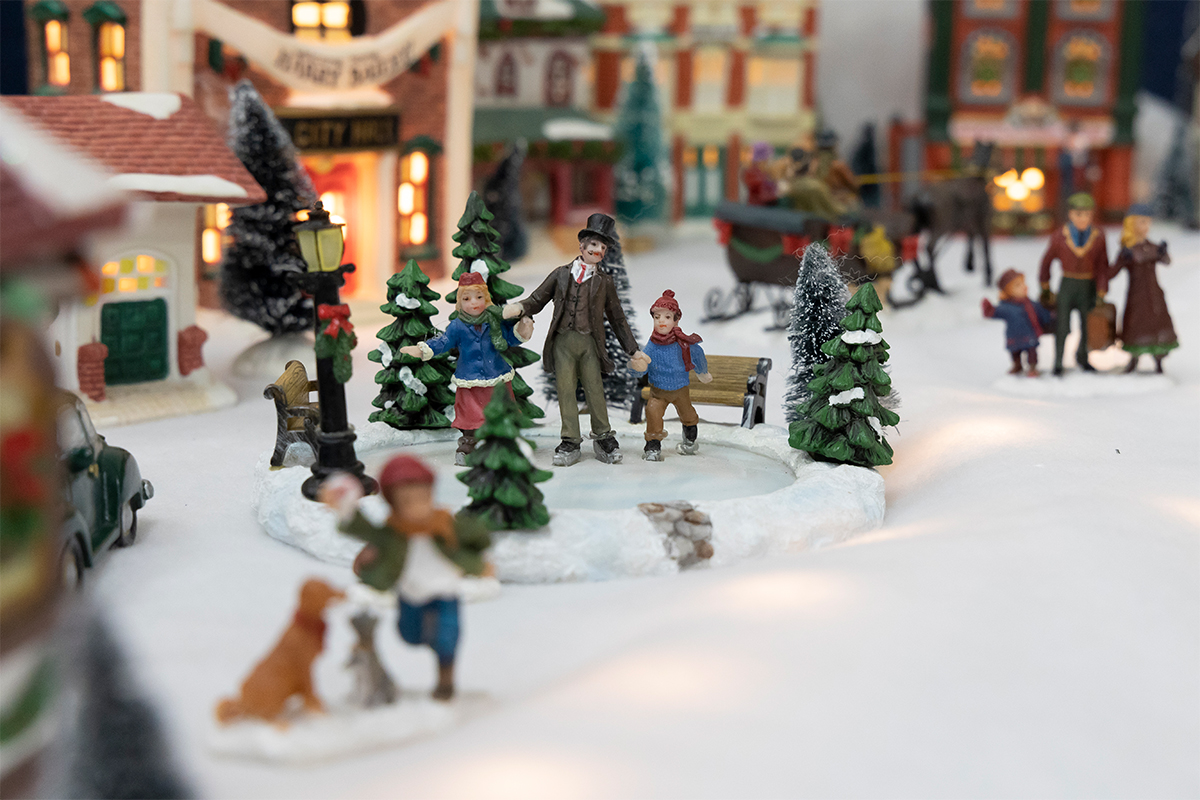 You can get a copy of the full guide to classes and programs in our Community Center, which includes our Recreation Center, Library, Aquatic Center, Gerdin Conference Center and other spaces, published three times each year, in person at the Community Center, 520 W. Cherry St., or online. These highlights of the coming month are published on the third Thursday of each month. You can sign up to have this emailed to you at northlibertyiowa.org/subscribe.
News & Updates
The complete guide for programs, events and classes is available on our website and at both front desks in the Community Center. Registration for most programs begins Dec. 4 for North Liberty residents.
The Community Center will be closed Dec. 24, 25, 26, 31 and Jan. 1 for the holidays. On Friday, Dec. 29, the Library will be closed and the Recreation Department will have limited hours from 7 a.m. to 6 p.m.
In Case You Missed It
Our weekly 55+ Connections Lunch gives older adults a chance to get together for a meal on Fridays from 11:30 a.m. to 1 p.m. Come play games, hear about community organizations that serve older adults in Johnson County and socialize. Meals are $5 per person and are catered by local restaurants and businesses. Registration is required and can be done in person, online, or over the phone by calling (319) 626-5716.
City Slate Events
There's always something free and fun to do in North Liberty. The City Slate offers events all year long, and is made free with the support of Centro, Inc, The Family Dental Center, The Eastern Iowa Airport – CID, Hills Bank, MidWestOne Bank, Shive-Hattery, South Slope Cooperative, University of Iowa Hospitals & Clinics, Urban Acres Real Estate and Veridian Credit Union. More at northlibertyiowa.org/cityslate.
Breakfast with Santa (and the Grinch)
Dec. 2, 8 a.m. – 12 p.m., Community Center, Free
Make plans to share your Christmas wishes with Santa, enjoy a hot breakfast from the North Liberty Lions Club, admire a model Christmas Village and make crafts at this annual tradition.
Register
Other Upcoming Events
Elf on the Shelf Scavenger Hunt
Nov. 24 – Dec. 23, Citywide, Free
Pick up a free elf guide at the Recreation Department's front desk, visit local businesses, spot the elves and collect stamps from friendly employees. Return your completed guide to the Rec Center to be rewarded with a prize from a grateful Santa Claus.
Vendor Fair
Dec. 2, 8 a.m. – 12 p.m., Recreation Center, Free
Like to holiday shop? Local vendors will have items on display and available to purchase in Roberts Gymnasium. To sign up as vendor, contact Matt Meseck at (319) 626-5716 or [email protected].
Friends of the Library Holiday Cookie Walk
Dec. 2, 8 a.m. – 12 p.m. (or while supplies last), Recreation Center, $7/dozen
Just in time for the holidays, let us do your baking for you! Get your homemade holiday cookies and candies here. Proceeds benefit the Friends of the North Liberty Library. (Like to bake? Homemade holiday cookie donations are also accepted and can be delivered to the library between Nov. 30 and noon on Dec. 1.)
Wrapping Room
Dec. 2 – 5 & 14 – 18, Open hours, Library, Free
Need a place to wrap presents away from curious eyes? We've got you covered! Come to the library for table space and some wrapping materials to get a head start on the holidays.
Babies, Toddlers & Preschoolers
DoodleBugs with the Cedar Rapids Museum of Art
Dec. 18, 10:30 a.m., Library, Free
Aha! Follow the clues and decrypt a secret code to uncover the artsy answer and solve the Doodlebugs mystery. Every Doodlebugs class starts with a story and ends with imagination and creation! All ages are welcome, but book content is gear toward Pre-K.
School-Aged Youth
Super Tuesdays: Popsicle Snowflakes
Dec. 5, 4 p.m., Library, Free
Winter is here and it's time to start decorating. Kids in K-3 grades can join us in jazzing up popsicle sticks with paint, markers, stickers and glitter to make decorative snowflakes.
Tweendom: Toothpick Towers
Dec. 12, 4 p.m., Library, Free
What do you think makes a sturdier tower: toothpicks and cranberries or toothpicks and marshmallows? If you're in grades 4-6, come to Tweendom and find out for yourself by erecting tall towers and putting them to the test with our youth and teen librarians!
Teen Tuesdays: Vision Boards
Dec. 19, 4 p.m., Library, Free
Junior high and high school students, bring your best collaging skills and create a vision board to manifest the goals you have for the year ahead. We will also enjoy hot cocoa while we envision the future!
Recsters Holiday Camp
Dec. 27 – 29 & Jan. 2 – 5, 7 a.m. – 6 p.m., Community Center, $60/day
An all-day program with all sorts of fun with Recsters counselors.
Register
Adults & Senior
Basics of Yoga
Dec. 2 – 16, 10 a.m., Recreation Center, $45
Learn the foundational poses of yoga in a welcoming environment with guided instruction on basic yoga poses, breathing techniques and safe practice. Instructor Natalie, a physical therapist, uses her background with anatomy and chronic pain training to help guide participants through beginning yoga poses. Please bring your own yoga mat and a couple of yoga blocks to class. Those under 16 may attend with an adult.
Register
Gentle Yoga
Dec. 5 – 19, Tuesdays, 11 a.m., Recreation Center, $45
Whether you're new to yoga or haven't done it in a long time, this class will go over the fundamentals of this ancient practice. Learn about common poses, how to transition ("flow") between them, plus breathing basics. Over time, experience increased flexibility and strength, as well as enhanced concentration and energy. Bring a mat and water bottle. Yoga straps and blocks will be provided. Ages 16 and up.
Register
Body Blast
Dec. 5 – 21, Tues/Thurs, 6-7 p.m., Recreation Center, $24-29
Motivating workout features 25 minutes of low-impact aerobics to ramp up your heart rate, 20 minutes of strength training with free weights to increase strength and tone and 15 minutes of abdominal work. Ages 14 and up. An online option is available to work out from home. Daily drop-ins: $5 per class if not at capacity. Instructor: Sandi Cook, ACE Certified
Register
Sewing Holiday Gift Bags
Dec. 6, 6:30 – 8 p.m., Library, Free
Step up your gifting game with a hand-sewn holiday gift bag. Bring your sewing machine and sewing kit (encouraged). The craft may also be completed by needle and thread (provided by the library). Registration is required and space is limited.
Register
Quilling Past Paper
Dec. 12, 6:30 – 8 p.m., Library, Free
Create beautiful art, gifts, and/or ornaments for the holiday season using rolled paper, glue and added holiday decorations.
Register
Hapkido Jiujitsu
Dec. 3 – 19, 4:30 – 6 p.m. Sundays, 8 – 9 p.m. Tuesdays, Recreation Center, $52.50+
Martial arts class with strong roots from both Korea and Japan. An all-encompassing system that uses both hard and soft movements/techniques. Ground fighting and weapons are also part of the curriculum. Students will learn nerve, blood and bone strikes. This is a combat-oriented style. Choose between Tuesday evenings or Sunday afternoons or both. Open to ages 17 and older.
Register
Families
Santa's Workshop
Dec. 11 – 23, 8 a.m. – 8 p.m. weekdays, 9 a.m. – 5 p.m. weekends, Recreation Center, Free
Come visit the workshop, enjoy a cup of hot chocolate by the fire, send a letter to Santa, join in some activities and get into the holiday spirit with holiday décor and festivities.
Winter Break Open Swim
Dec. 27-29 & Jan. 2 – 5, 1 – 4 p.m., Aquatics Center, $2/child, $4/adult
Enjoy the pool for extended open swim hours on your breaks from school.